On Friday 1August2014, activists occupied the median strip on Water Street at Pacific Avenue across the street from the war protest sculpture titled "Collateral Damage", talking to the public about their outrage over deaths of women and children in Gaza aided and abetted by US funding. Police arrived to inform them that local ordinances prohibit free speech in medians of Santa Cruz streets. Instead of agreeing to leave or sign promises to appear, these brave protesters decided to risk arrest and jail to get their message out.
End US Support for Eurofascism in Ukraine
Opponents of US policy towards Ukraine and Russia will meet at the Courthouse in Santa Cruz, 701 Ocean St, on Wednesday, May 21 at 2 PM to protest the US/NATO supported fascist coup in Ukraine and the neo-Nazi led suppression of the people of Donetsk, Luhansk, Odessa and elsewhere in eastern and southern Ukraine. We will then present a letter to Rep. Sam Farr demanding that he oppose US funding and support for the illegal Ukrainian junta based in Kiev.
https://www.indybay.org/newsitems/2014/05/16/18755868.php
Join other activists around the world & unite to March Against Monsanto!
What's the march all about?
-Uniting people for GMO Labeling, spread the word & help California's 2014 GMO Food Labeling Bill passed! (SB1381 – see more info at:www.facebook.com/labelgmos)
-Protect our food supply.
-Support local farmers.
-Spread awareness about the harmful effects of genetically modified foods.
-Promote organic solutions.
-Expose the cronyism between big business and big government.
-Bring accountability to those responsible for the corruption.
We will have a permit from the city for this event

When:
Sat 17May2014
Noon to 4PM
Where:
SubRosa Courtyard
703 Pacific Ave
Santa Cruz, CA
No money. No trades. Everything is free.
This market is based on a gift-economy and thinks capitalism sucks. Bring food to share. Bring your special items that you don't use but can't throw away (ex. clothes, toys, art supplies, instruments, books and zines…your free box). Bring your special talents to offer people (ex. haircuts, message, reiki…). Come and take what you can use and say thanks! We will have folks to check in with as you arrive. First come first served, space may be limited.
If you bring things, you are expected to take away whatever is left at the end of the market.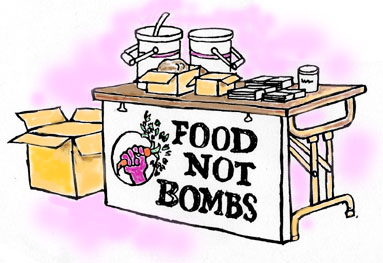 If you pledge $25 or more you get a free Food Not Bombs T- Shirt!!!
http://www.santacruzfoodnotbombs.org/
To donate, please go to:
http://www.humanracesc.org/goto/FoodNotBombsFreeSkool
By donating or fundraising at least $35 to the cause of their choice, individuals will celebrate together on Saturday May 10th while enjoying a breakfast, lunch, free t-shirt, carnival games, live music, aerial dancers, acrobats, magicians, clowns, fortune tellers and a beautiful ocean walk along West Cliff Drive.
http://www.humanracesc.org/race-info/race-day-information/
Begins and Ends at:
2300 Delaware Ave.
Marketplace: 7:00 am – 11:30 am
This free, intensive 2-day training will give you the entire "DNA" of 99Rise – everything that makes this movement tick – so that by the end of the weekend, you'll have received the full set of theoretical, strategic, relational, and communications tools needed to become a 99Rise leader, form an independent team, and spread the DNA in your community. Do the training, be the movement.
The training will include:
*The basic dynamics of nonviolent conflict and civil resistance.
*How to share your story to mobilize supporters and build community.
*The grand strategy and principles of 99Rise.
*Organizing 101 and effective action planning.
WHEN
Sat May 3, 2014 10am – 6pm
Sun May 4, 2014 10am – 6pm
Monday, April 14th from 6 – 9 pm at Global Exchange
2017 Mission Street near 16th Street BART
Information, discussion & community! Monday Night Forum!!
OccupyForum presents…
Our Homes, Our Neighborhoods–
The Fight to Wake up the City, Stop Displacement, 
and Take Back Control of Our Communities
For more information visit >>>
Feed Your Family.  Feed Your Community.  Feed Your Philanthropy.

On Thursday, April 24, 2014, from 5:30-7:30pm, Homeless Services Center (HSC) will host its 15th Annual Soupline Supper at the Cocoanut Grove in Santa Cruz. The event features signature soups, gourmet bread, and desserts from over 40 local restaurants. Public officials, top executives, and other community leaders serve as "Celebrity Ladlers." Live music and brief program for the 500 attendees recognizes donors, sponsors, volunteers—and includes a few updates from HSC's Executive Director Monica Martinez.
HSC's Board of Directors encourages you to consider how at Soupline Supper, a good bowl of soup has the power to open a door. Your contribution helps further the mission of Homeless Services Center to enable self-sufficiency of individuals and families while reducing homelessness in Santa Cruz County.
Learn more at www.souplinesupper.org.