Author Archive
Today at 4PM on Pacific Avenue
Get on the 11:45AM Highway 17 Express Bus
For other options, scroll down
From: https://twitter.com/BlockTheBoat
URGENT UPDATE
BlockTheBoatForGaza ‏@BlockTheBoat
Our organizing is working! Ship delayed. Come out to W. #Oakland BART 3PM Sat NOT 5AM to #BlockTheBoat!!! #StealThisTweet #BlastThis
Stop Israel at the Port!
Block the Israeli Zim Ship at the Port of Oakland
Saturday, August 16th
BOYCOTT, DIVEST, SANCTION!
Endorsed by the OSF Action Council
Today (Sun10Aug2014) in San Lorenzo Park
On Friday 1August2014, activists occupied the median strip on Water Street at Pacific Avenue across the street from the war protest sculpture titled "Collateral Damage", talking to the public about their outrage over deaths of women and children in Gaza aided and abetted by US funding. Police arrived to inform them that local ordinances prohibit free speech in medians of Santa Cruz streets. Instead of agreeing to leave or sign promises to appear, these brave protesters decided to risk arrest and jail to get their message out.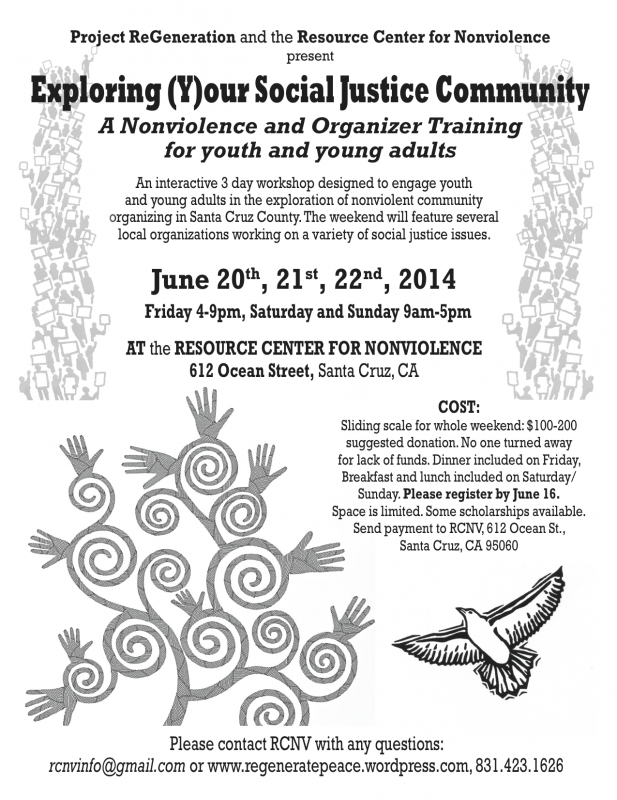 Build community over a three day workshop with others interested in learning more about the fundamental behind planning nonviolent direct actions and campaigns, the philosophies and ideologies of nonviolence, and meet with several organizations working to better our local communities. The weekend will include presentations, conversations, interactive activities, films, discussion groups, field trips, and even a bit of direct action! Dinner will be provided on Friday (4pm-9pm), breakfast and lunch will be served on Saturday and Sunday (9am-5pm). Please RSVP and register with us by June 16. Call or email Sandino for more info and to RSVP!